Are you looking for a solution to edit PDF files online? Then read this post, here I have written about the top 5 best websites which will definitely help you to edit PDF files online.
These sites are free that means you don't need to pay any charge like other expensive software's which we use (like Microsoft office etc.) for using these services. So read the full article to find out information about the best 5 online PDF editors. Continue reading the full article below.
PDF aka portable document format is the most popular file format to carry useful and important documents. PDF is a cross-platform means of exchanging documents, this file format allows any user (who has the file or access to the file) to read and even edit (if you author of that file has given permission) to edit the file. Within a few years of its launch PDF has become very popular because of its ubiquitous and flexibility.
The only disadvantage about the PDF file format is – you can't open PDF files on every 3rd-party-word viewer. Only some word viewers support and can help you to access your PDF files. Most of those software's are pretty high priced.
However, there is Adobe PDF reader which will help you to read PDF files for free of cost. But it won't help you to edit PDF files. So, that's when this post becomes helpful, below are 5 useful websites which will help you to edit PDF documents for free of cost. So check the list of these top 5 sites below.
Best Free Online PDF Viewer & Editor
1. PDFescape
PDFescape service was originally started by Red Software. But currently, it's a California-based company which is specialized in the PDF related desktop software industry. The name PDFescape clearly suggests about its main features. PDFescape is named for its ability to help a user to escape the typical software requirement when working with the PDF files. PDFescape Is a great web-based app to work with the PDF files online. This is the first online PDF viewer and editor software. This is very easy to use and you will love it.<Check PDFescape>
2. PDF Buddy
PDF Buddy is another amazing online Website or Web app. This will definitely help you to manage PDF files. You can easily edit your PDF files online using this website.
Check out PDF Buddy now. <Check PDF Buddy>
3. CutePDF Editor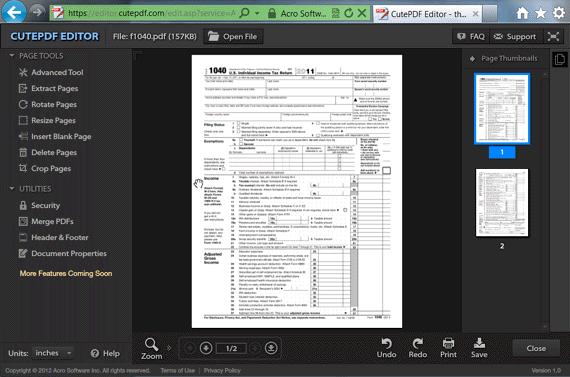 CutePDF editor is a cloud-based PDF editor. This website gives you a desktop software experience, using this feels like using a desktop software. You can easily manage your PDF files with CutePDF Editor. You don't need to sign up or anything a; you need is a web browser (You are currently using one; right now) and Latest version of Adobe Flash installed on your computer. <Check CutePDF>
4. Free Online Document Editor
Free online document editor is a WYSIWYG online document editor. You can use this for upload, convert and edit any document formats, including PDF, DOCX, and ODT, RTF, OTT, XLS, XLSX, TXT, PPT, PPTX, ODP, PCL, PRN, TIFF, TIF, JPG, GIF, PNG, HTML, XPS and more. So, this one website will help you a lot. <Check Free Online Document Editor>
5. PDFfiller
Now we will talk about the best and last in the list PDFfiller. This website is the best Online PDF editor. You must try this at once. Since 2008, PDFfiller has been helping people to edit and view PDF files online. There are many awesome and unique features which are available on this website. You must check it out to find about all the features that this web app has.<Check PDFfiller>
Hope you like the list of best free online PDF Viewer and Editors. If you know about any other better website, then comment below and I would love to add that to the list. Moreover, share the blog post on social media. Thanks for visiting, have a good day.